Job
Technical Advisor with a flair for communication and customer service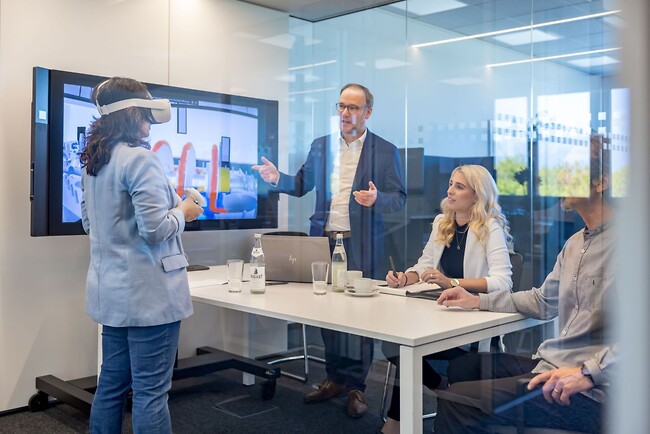 Are you ready to use all aspects of your technical knowledge in a challenging and exciting position? Are you interested in working in a dedicated team which contributes to getting the world's largest combustion engines to perform at their best? Do you want to contribute to a carbon-neutral economy in sectors that matter most? And are you looking for an opportunity to work in a close relationship with our customers who are in need of your technical competence and guidance to solve their 2-stroke main engine problems?
Ansøgningsfrist
Løbende optagelse
Forventet start
Hurtigst muligt
Arbejdssted
Danmark Sjælland
Then we might have the right job for you. Be a future maker as our new Technical Advisor and be a part of the decarbonization of the maritime industry and be an important value for our with costumers.
What are you going to do?
As our new Technical Advisor you will be based at our Product Center in Copenhagen and become part of our aftersales division, MAN PrimeServ. You will join our 40 people strong Technical Service Department, which is responsible for supporting our customers in running some of the largest 2-stroke engines worldwide.
In close collaboration with our team of skilled Superintendents and with our in-house knowledge, you will be able to help and provide our customers with the necessary knowledge to maintain and troubleshoot their 2-stroke engines. As part of our new 24/7 remote troubleshooting team, you will be responsible for assisting our customers around the globe and answer their inquiries through our Cloud4Service system.
You will be the face of MAN towards our customers and hence be responsible for firm and good communication to sustain the valuable relationship to our customer.
Through our academy you will gain and develop your technical understanding and competence in 2-stroke engines. You will get the opportunity to get advanced skills in maintenance and troubleshooting of MC-C, ME-B, ME engines and acquire new knowledge in the latest gas and dual fuel engines. Moreover, you will have access to our internal knowledge hub and you will get an extensive in-house network across our different departments.
As Technical Advisor you will:
Render optimum service, maintenance and troubleshooting on MAN 2-stroke engines.
Support customer inquiries by e-mail and phone.
Assist travelling colleagues during onboard attendances.
Use our internal MAN network to solve complex customer issues.
Continuously educate yourself in new MAN technologies.
Support the worldwide MAN organization.
Enroll in 12-hour day and night shift based on a 10 weeks rolling schedule.
Who are you?
We imagine that you are a talented and curious engineer with a profound interest in electronics, hydraulics, automation and mechanics – just like us. You are customer-oriented and enjoy solving technical issues independently while you do not hesitate to ask your colleagues for inputs. You may know your way around an engine and auxiliary systems.
Moreover, you:
Hold a technical degree in engineering and, preferably, have some years of experience as a marine engineer.
Alternatively, you have profound experience from large-scale industries and are ready to change your professional course.
Cain energy and motivation in customer interaction and thrive in a customer-oriented environment
Have a flair for troubleshooting of complex mechanical and/or electrical systems.
Communicate effortlessly in English across cultures, borders and organizational levels.
Easily adapt between day and night shifts.
How is your new team/area of business?
You will be part of our Technical Service Department, joining a new team of 5 Technical Advisors manning the support towards our customers 24/7/365 and taking care of our customers' inquiries for technical guidance and sparring.
You will be working according to a 12 hour shift schedule for a certain amount of days and for the remaining days you will have time off. Day and night shifts are carefully planned so that you can organize your working hours and private life as best as possible which opens for a great flexibility .
As part of your onboarding, we will ensure the best training either in our MAN PrimeServ Academy or by site supervision of experienced colleagues.
Who is MAN Energy Solutions?
With headquarter in Germany, MAN Energy Solutions employs around 15,000 people worldwide. Of these, we are approx. 2,200 passionate employees in Denmark in three locations: Copenhagen, Frederikshavn and Holeby. With more than 250 years of experience in advanced engineering, we deliver a unique portfolio of technologies and opportunities in the development of engines for use on ships and in power plants across the globe. MAN Energy Solutions works on the motto "Future in The Making", because we make a virtue out of creating sustainable solutions and contribute to a carbon neutral economy.
What can MAN Energy Solutions offer you?
MAN Energy Solutions offers a competitive salary package and pension scheme. In addition to your normal vacation scheme, you will have 2 weeks off in every period of 10 weeks of work. Furthermore, you will shift between 3 & 4 days of work per week.
Moreover we have a number of other employee benefits, which among other things include:
Health insurance, access to physiotherapy, etc.
Massage scheme.
Wealth of employee clubs and associations covering everything from sports to art.
Discount clubs.
Great flexibility.
Free parking.