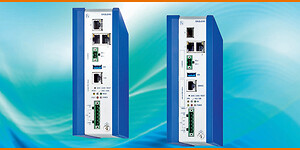 Hirschmann Industrial Firewall – EAGLE40 Next-Generation
The multiport EAGLE40 next-generation firewall offers a comprehensive cybersecurity solution to maximize uptime in today's stringent automated environments.
Evolving alongside data transfer demands, the EAGLE40 includes more port Options with increased bandwidth and encryption capabilities. Supporting both OSPF dynamic routing and VRRP router redundancy, the Hirschmann industrial firewall EAGLE40 is an economically-sound approach to maximize uptime, regardless of network throughput.
Benfits for the Hirschmann Industrial Firewall
Ensure heightened performance capabilities with more port options, each at one gigabit per second (Gbit/s) bandwidth
Protect against physical and virtual threats with ruggedized housing and Stateful and Deep Packet Inspection (SPI/DPI) modules
Gain unrivaled system configurability for all skill levels with a comprehensive graphical user Interface and multi-layer encryption capabilities.
Feature:
Three Gigabit Ethernet ports with up to 1 Gbit/s throughput
HiSecOS with SPI and DPI capabilities
Firewall Learning Mode for rule configuration
Dynamic-routing support with OSPF and router redundancy VRRP
IPsec VPN for secure data encryption
Graphical HTML 5 web user interface
Operating temperature range of -40 °C to +70 °C
Critical demands of industrial and process automation
The Hirschmann EAGLE40 firewall was specifically designed to meet the critical demands of industrial and process automation environments. The device includes software optimized for DPI applications to meet a variety of industrial protocols. Thanks to continuous software upgrades, additional protocols and advanced intrusion detection capabilities will be added in the future. This makes the versatile and highly configurable firewall especially ideal across OT teams with various experience levels and skillsets
Read more about Hirschmann Industrial Firewall – EAGLE40 Next-Generation here
Contact us at Recab:
Do you want more information and talk to our experts about Hirschmann Industrial Firewall – EAGLE40 Next-Generation:
Carsten Stockholm / +45 70 300 310 / carsten.stokholm@recab.com
Magnus Jäder / +46 730 618 805 / magnus.jader@recab.com
Magnus Unosson / 073-201 03 02/ magnus.unosson@recab.com